Vodafone Xperia X, XA and Z5 to receive Nougat update soon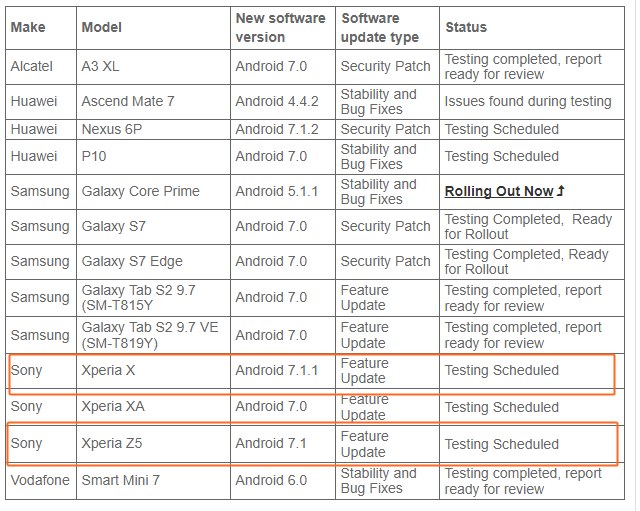 Vodafone Australia will soon roll out Android 7.1 Nougat update to their Xperia X and Xperia Z5 smartphones soon. 
On its' official website, Vodafone Australia has updated that they are currently testing Android v7.1 Nougat OS on their devices including Sony Xperia X, XA and Z5. Although no exact dates are mentioned, the update is expected to roll out to these devices once the testing is completed. ALSO READ: A picture showcasing bezel-less Sony phone leaked; expected to launch at IFA 2017
About a week ago, the unlocked variants of Xperia X and Z5 have received the latest Android v7.1.1 update, while the Xperia XA will receive it within a few days after Sony fixes the issues that caused performance inconsistencies related to the over-the-air delivery system.
Android 7.1 will bring along features including app shortcuts, Night Filter, circular app icons, Daydream VR, and a bunch of new emojis.
Source: Vodafone
Via: theAndroidSoul
OnePlus 5T may not launch soon, but a new variant of OnePlus 5 is already here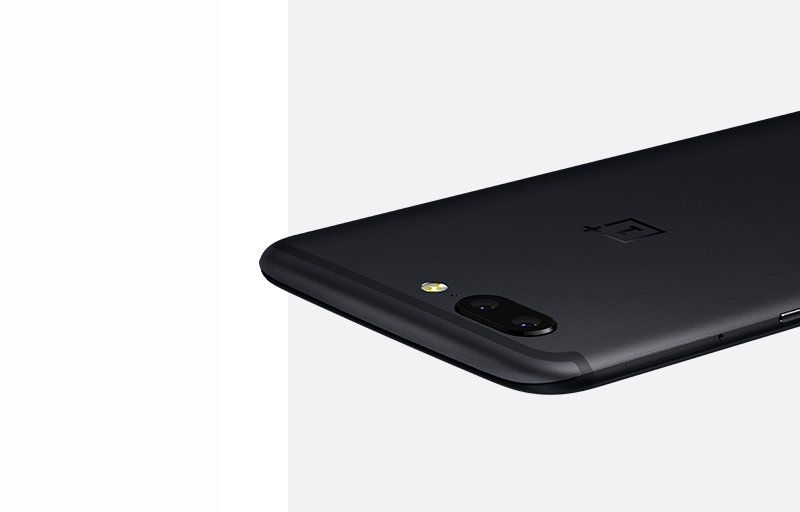 Just when we were all waiting for the OnePlus 5T from the Chinese firm, it launches a yet another new variant of the already existing OnePlus 5. 
Looking forward to the launch of next-gen OnePlus smartphone – OnePlus 5T? Well, it seems you'll have to wait for at least until the beginning of the next year to see what the Chinese firm has in store for the next flagship killer. However, here is a new variant of the already existing OnePlus 5 that you might like to check out.
Chinese smartphone manufacturer, OnePlus, has collaborated with leading French designer Jean-Charles de Castelbajac to unveil a limited edition variant of its latest flagship phone, the OnePlus 5. The collaboration is part of the launch of 'Callection', an exclusive product line-up co-created with JCC. The Castelbajac OnePlus 5, the first look of which was revealed recently, was launched at a pop-up event in Paris on Friday along with another limited-edition variant, the OnePlus 5 JCC+.
The Paris pop-up event was organized in association with Paris-based fashion boutique Colette and held at its retail store in the city. The Castelbajac-themed OnePlus 5 handset will be available in the 8GB RAM and 128 GB storage variants. However, the sale of this limited edition smartphone will be limited to Europe, where it'll be available October 2 onward for EUR 559 through OnePlus.net. The exclusive 'Callection' rolled out by OnePlus and JCC also includes t-shirts, holsters, caps, bags, in addition to the limited edition OnePlus 5 handsets bearing the Castelbajac's signature in chromatic style.
Speaking of the unique partnership, OnePlus co-founder said that the collaboration was in line with the company's efforts to offer its users something new and exciting, embodying the Never Settle spirit. Partnering with an iconic designer like Jean-Charles Castelbajac, who is known for setting the bar really high in the fashion circles with his game-changing ideas aptly reflects the company's motto.
Castelbajac said that the collaboration was in keeping with his objective of always looking toward the future. "To change the world, you always need to be creative and work with people who are ahead of their time," he was quoted as saying.
This isn't the first time the Chinese phone maker has rolled out limited edition handsets to captivate the imagination of its customers. The limited edition of Colette-engraved OnePlus 3T, in the 128GB storage variant, was also introduced and made available through the boutique's Paris store. Even though customers outside Europe won't get their hands on the Castelbajac inspired smartphone, they can still buy the 'Callection' and 'Never Settle' t-shirts.
Source: Engadget
It's Official, Google to acquire a part of HTC's smartphone workforce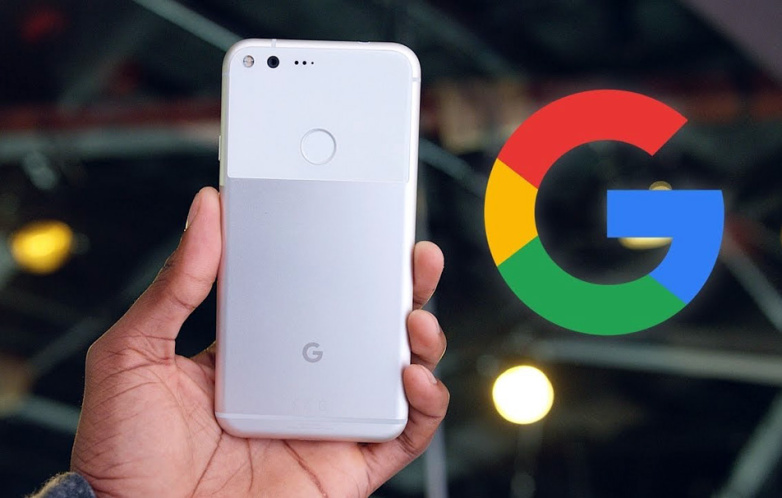 After a long spell of speculations and rumors, Google's acquisition of HTC is finally official. However, the deal is not quite on lines of what was being expected. So far, the rumor mill was rife with speculations of an outright acquisition. Unlike its acquisition of Motorola, Google isn't buying HTC lock, stock, and barrel. The internet giant has, so far, only entered into an agreement with the Taiwanese electronics maker, as of which a part of HTC's workforce will move over to Google, besides a non-exclusive license for the former's intellectual property. The electronics company will, in turn, receive a cash influx of $1.1 billion.
As part of the current deal, HTC will continue to function as an independent entity and manufacture its own smartphones. None of HTC's manufacturing units have been included in the transfer deal. This could be attributed to the fact such manufacturing plants turn out to be quite a liability instead of an asset in the realm of the smartphone business.
Announcing the partnership with HTC, Google's senior vice-president of hardware, Rick Osterloh, published a blog post stating, "With this agreement, a team of HTC talent will join Google as part of the hardware organization. These future fellow Googlers are amazing folks we've already been working with closely on the Pixel smartphone line, and we're excited to see what we can do together as one team."
It looks like Google has brought on board HTC's Pixel team, which are said to be the 'secret' manufacturers heavily influencing the design and functionality of Google's smartphones. The company' Pixel and Pixel XL released in 2016 were manufactured by HTC, whereas for the upcoming Pixels phone, the manufacturing process has been split between HTC and LG. Hopefully, the addition of this team to Google's workforce will allow the internet giant to radically revolutionize its line-up of smartphones, making them a cut above the competition.
The $1.1 billion cash infusion would be nothing short of a fresh lease of life for HTC, allowing it the opportunity to stay relevant in the smartphone as well as VR markets. In a press statement regarding the acquisition, HTC said the deal would help it secure "a more streamlined product portfolio, greater operational efficiency and financial flexibility." It also promised that it'll be around, producing "best-in-class flagship phones". While the big bucks coming from Google will help alleviate HTC's woes for now, it is far from a permanent solution. The only way HTC can hope for Google's cash to bail it out is by using it to overhaul its smartphone technology, with an eye on undoing its plummeting sales.
Forget the Nokia 8, Nokia 9 is the smartphone we've been dying to see from Nokia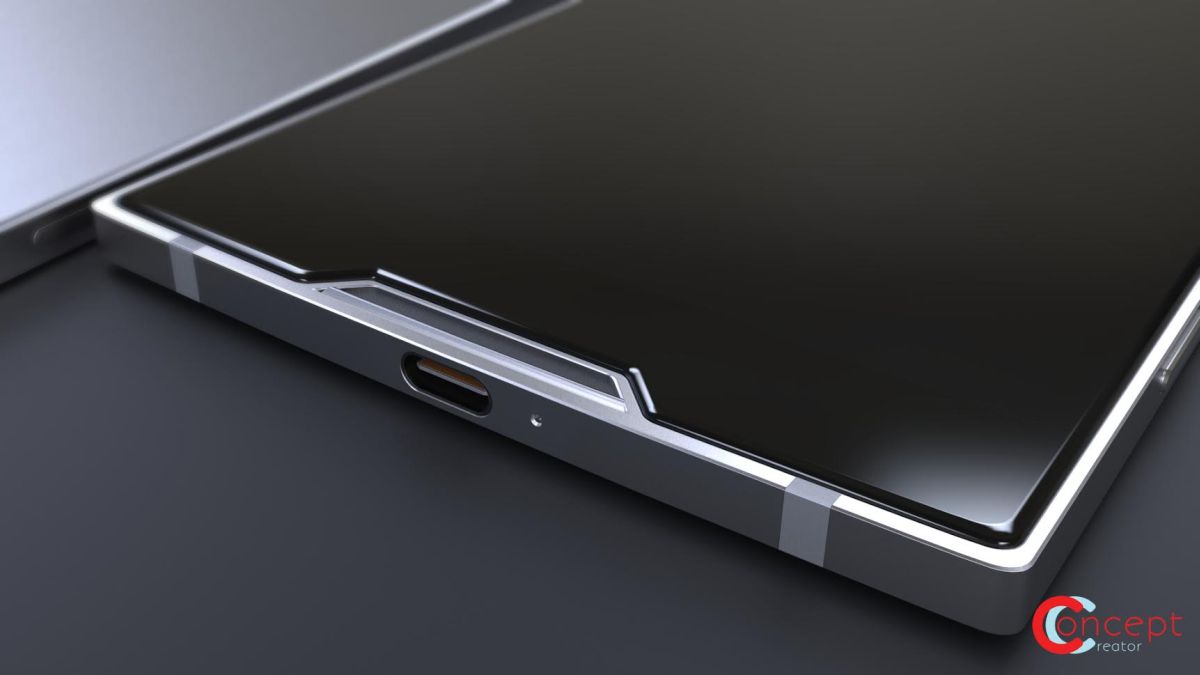 Here is everything you need to know about the upcoming Nokia 9. The highlight of the device will be its brand new design with fewer bezels and all-screen design.
Nokia (or HMD Global) launched their latest flagship device, Nokia 8, earlier this month. Although some countries were lucky enough to have already shipped the device to early adopters, most countries across the globe are still awaiting the release of Nokia's first flagship smartphone. Sure, it has all the bells and whistles of every flagship smartphone in the market. The phone has Galaxy S8 grade specs, and arguably features the best phone camera setup in the world backed by Carl Zeiss lens. But, the device still comes with a design from a bygone era, that makes it a stupid choice to buy in 2017. The bezels around the display are huge, and the design looks no different when compared to the entry-level Nokia 5.
However, it now looks like the company has understood its mistakes and is looking forward to correcting them on the next-gen flagship device. The device, dubbed Nokia 9, has leaked in a bunch of renders showcasing the handset in its entirety. The design indeed looks impressive and has fewer bezels upfront leaving more room for the screen real estate.
It's worth noting that these renders were designed with inputs from the previous leaks relating to the handset, so the final design of Nokia 9 might look somewhat like this. Or maybe not! We definitely can't be sure of that at this point.
Assuming this render is legit, Nokia 9 will mark the company's first handset to feature a rear-mounted fingerprint reader. It's located just below the dual camera setup, which looks pretty handy when it comes to the quick unlocking of the device.
Possible specs of Nokia 9 includes a 5.5-inch QuadHD display, Snapdragon 835 processor, 4/6GB RAM, 64/128GB storage and a dual-13MP rear camera setup. Besides, it is expected to feature a glass rear to facilitate wireless fast charging technology like the Galaxy S8, and LG G6.
Source (Picture): Waqar Khan (YouTube)