What is PiP (picture-in-picture) Mode for Video Calls in Whatsapp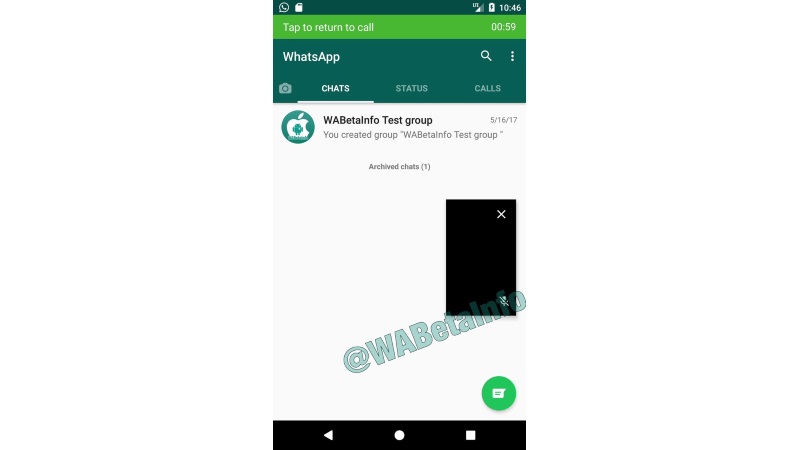 PiP, or Picture-in-Picture, is a new feature on Whatsapp that will let you continue chatting while making a video call.
Whatsapp, as we know, is improving regularly, with tons of features being added every now and then. And now, the messaging app is prepping to add a new feature called PiP (or Picture-in-Picture) mode for video calling. Talking about the PiP mode, it basically lets you minimize the ongoing video call so that you can continue chatting with others.
On the current version, it is not possible to perform any actions on the app during a video call. So, PiP sounds like a feature we've always wished to see on Whatsapp. However, the feature is presently available only on the Whatsapp beta version 2.17.265 running on Android O Developer Preview.
This version of Whatsapp is currently in the testing phase. Therefore we'll have to wait to know if the feature would be available for the older versions of Android and iOS. Also, it's not clear at this point whether it would be possible to use the PiP feature after minimizing the app as a whole.
What we know as of now is that PiP mode will let users shrink the video call window to an edge of the screen (top or bottom), thus enabling them to use the application seamlessly.
Google deletes your Google Drive backup if you don't use an Android phone for 2 months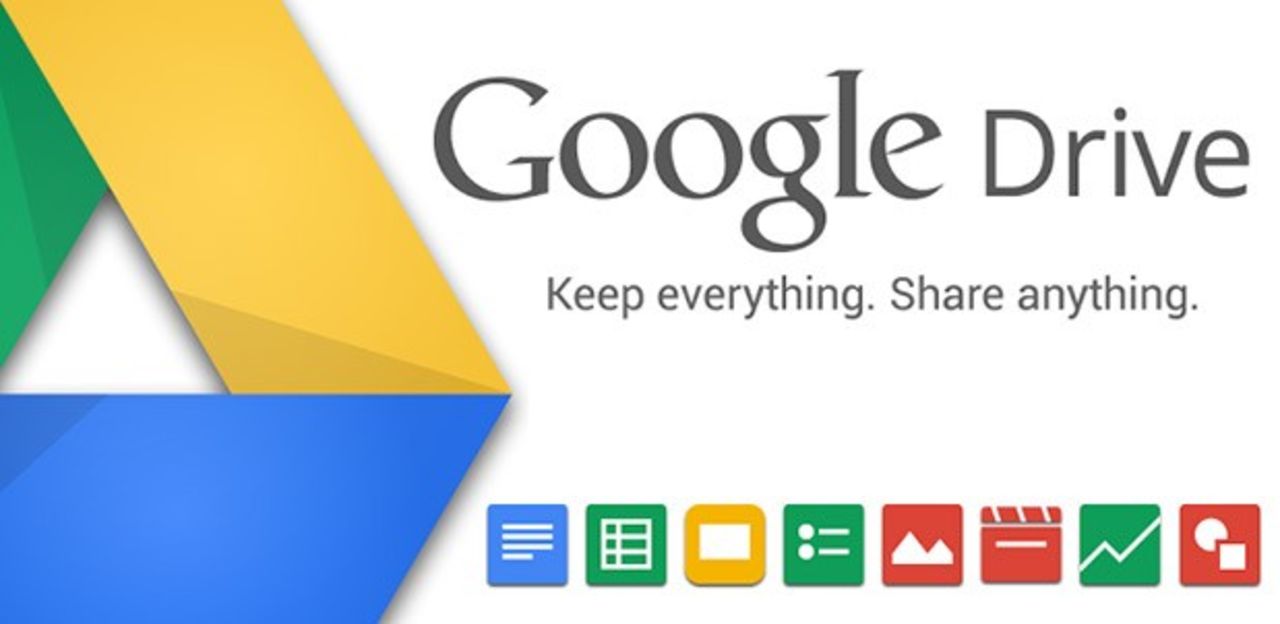 If you thought all your important data is safe at Google Drive, then you are dead wrong.
There is no denying the fact that Google Drive is one of the best cloud service available online to backup all your important data and files. Although Google Drive faces tough competition from its rival DropBox, the former still maintain a solid position in the industry thanks to free 15GB of storage and real-time editing functionalities. And in case you own an Android-powered device, the free online storage can be of great use for backing up app data, settings, and other important data. But, make no mistake: Google Drive is not as interesting as it sounds.
After backing up your files, if you don't use an Android phone for the next two months, Google could delete all your data, that too, without any prior warning. Now, that could be a bummer for those who need to recover the data after two months or so.
Google's backup deletion policy is clearly stated in the Google Drive support page, which reads "Your backup will remain as long as you use your device. If you don't use your device for 2 weeks, you may see an expiration date below your backup.". However, not many users, including me, were aware of such a policy until recently when a Reddit user pointed to an inconvenience caused due to such a "feature".
What's more frustrating, however, is that the case does not change even for paid users. Who would pay for such a backup service that won't hold your data for more than two months?
Best free VPN software for Windows 10 PC to protect yourself online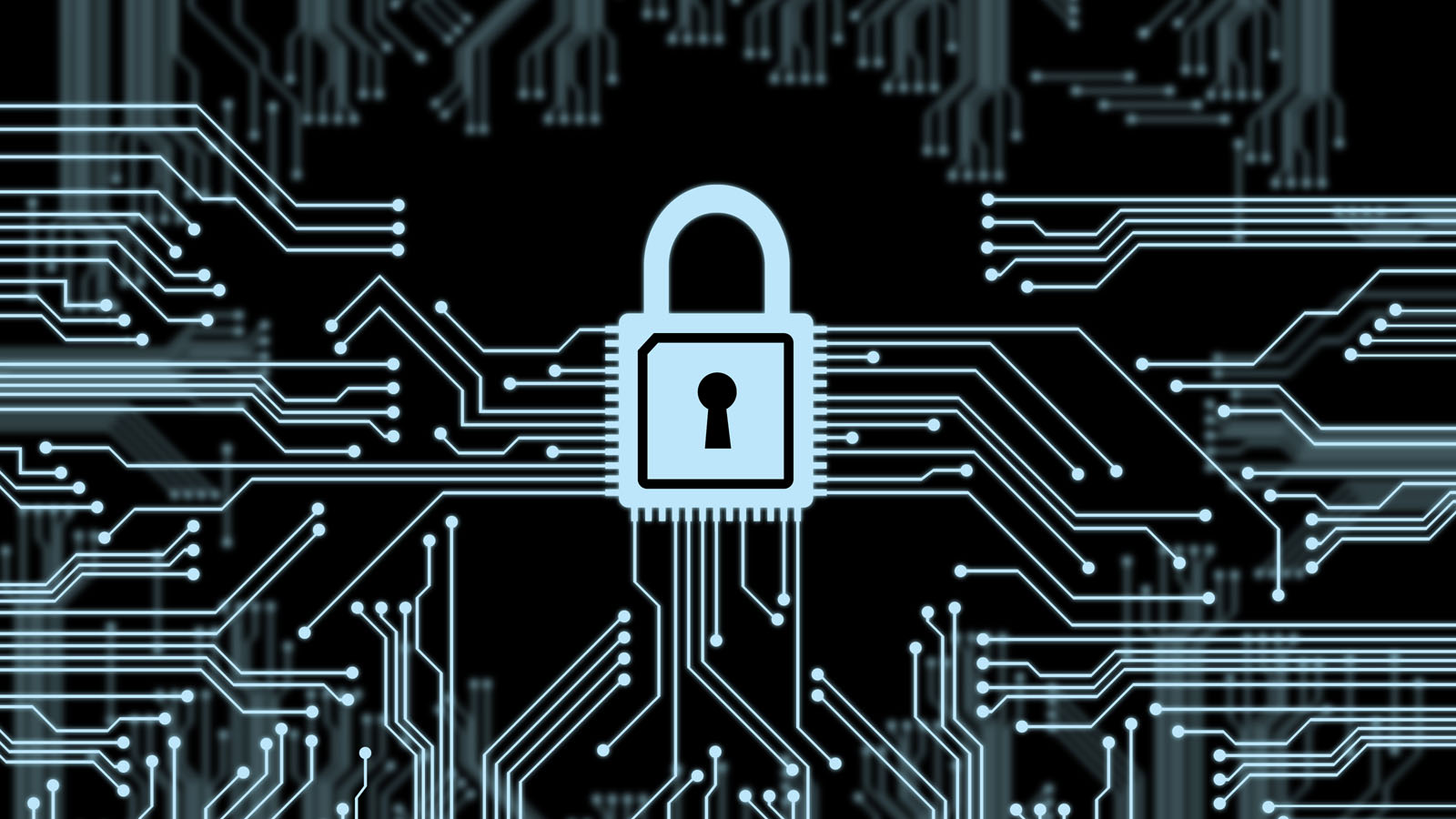 Here are our picks for the top best VPN for Windows 2017. 
Best Free VPN for Windows 10 PC 2017
The Internet is no longer safe to use. Our privacy on the Internet has become a joke with hackers and Internet services constantly spying on our data usage and personal information. This is where a VPN, or Virtual Private Network, comes to play. It basically masks your IP (Internet Protocol) address that is provided to you by your ISP (Internet Service Provider). Well, that also means your original IP address is not visible online, protecting you from possible DDoS attacks and hacking. Talking about the best VPN Softwares available in the market, most of them actually comes at a price. However, there are a bunch of free VPN software as well. But, it is to be noted that the free VPN applications do not provide as many features and goodies as those supplied by the paid ones.
What is a VPN?
Virtual Private Network, or VPN in short, is a technology that creates a safe and secure connection over a less secure network. Originally developed as an idea for allowing remote users and branch offices to securely connect to corporate applications, VPN is now used on a wider scale by the users of the Internet to protect their personal details from the dirty hands of hackers, ISPs, and Government organizations.
Speaking of which, a VPN software blankets your original IP address and provides you a different one that may reflect a different geographical location. After connecting to a VPN, all your data is encrypted and they travel through secure tunnels, making it rather unlikely to be tracked by others.
Why is VPN used?
There are a plethora of reasons why people use a VPN software on their Windows PC. While the primary use is to hide the real IP address, it is often used to gain access to restricted apps and websites. And that's not it! The VPN tricks the Internet by altering your geographic location virtually, thus letting you freely access Geo-blocked websites and applications without any restrictions. Speaking of which, it is particularly useful in countries such China and Russia, that maintains a strict policy over the usage of Internet.
Now suppose you are connected to a public WiFi hotspot, it is something worth remembering that all your browsing activity may be visible to other users on the network while you are on a non-HTTPS website. And, that definitely doesn't sound any good! This is where you have to use a VPN and protect yourself from the risk of being watched by the others.
Torrenting: If you tell me that you don't download files using BitTorrent protocol at all, then chances are you are either an enormous liar or you are not connected to the Internet. And, that second option seems highly unlikely. Legal or illegal torrents, it's always recommended that you use a VPN service while downloading them, for both protecting your privacy as well as save to get rid of the dirty throttling trick that your ISP might come up with.
Talking about throttling speeds, your ISP never likes you surfing high bandwidth sites like Netflix, YouTube, Amazon Prime Video, so on and so forth. So, what they do is throttle your speeds so that they don't consume much data. Enabling a VPN will help you bypass this issue, and provide a seamless connection while watching your favorite videos in high resolution.
Best Free VPN for Windows 10 PC 2017
CyberGhost VPN is one of the best free VPN software for Windows 10 operating system. It provides a simple user interface and comes packed with several features to let you surf anonymously on the Internet. As with every freebie, the free version of CyberGhost VPN also comes with limited features as well: 1GB traffic/month, and limited bandwidth (up to 2Mbps).
---
TunnelBear is yet another wonderful VPN for the Windows users. Sporting a very user-friendly interface, this one lets you choose an alternate geographic location for yourself. All you have to do is click the connect button on the top of the applications, and let the TunnelBear take care of your online privacy for you. By default, it provides 500GB traffic/month, however, you can add a 1GB to it by tweeting about your experience with the software. So you're getting 1.5GB per month, which is pretty sweet for a free VPN software.
---
Coming next is a Canadian-based VPN service called SurfEasy VPN. The software is easy to setup and the free version offers monthly data limits of 500MB/month. The SurfEasy VPN also provides torrenting protection, thus taking care of your privacy while sharing and downloading files using a P2P software. And, that's always a good feature to have! The number of locations provided by the service is rather low when compared to the TunnelBear or the CyberGhost VPN, but the connections are solid with the 13 countries on board, including the US, France, UK, Australia, and Singapore.
---
The next on the list is WindScribe VPN, yet another free VPN service for Windows. Wanna know the best part? It provides a monthly cap of 10GB traffic/month, but there's a catch! Although WindScribe has got 20 servers on board, if you are a free user, you do not have the privilege to access all servers. Also, the free users are restricted to use the service only on one device at a time. However, that doesn't sound a total bummer considering it's a free service and you are not even spending a penny on the same.
---
And at last, but not the least, we have the Avira Phantom on the list of best VPN for Windows 10 (2017). Yes, you guessed that right! The service is owned by Avira, the AntiVirus company. Available on multiple platforms including Android, Windows, and iOS; the VPN service provided by Avira is trust-worthy and something worth giving a try. It's easy to use and provides a monthly cap of 500MB data, which is pretty decent. However, you can double that size up, for up to 1GB/month, simply by registering an account on the application. Also, the service lets you choose your location from 13 servers located around the globe.
---
It is worth noting that all of the above VPN services also comes with a premium variant that you can use after paying a certain amount. After using the free version, if you think it's worth investing some dollars on it, then go forward and try out the premium version as well. Needless to say, the premium version will come with additional (or unlimited) data cap per month and several other features to play with. So, which VPN service are you planning to use? Or if you already use one, do let us know about it in the comments below.
So, which VPN service are you planning to use? Or if you already use one, do let us know about it in the comments below. 
Opera Max app for managing data usage is now dead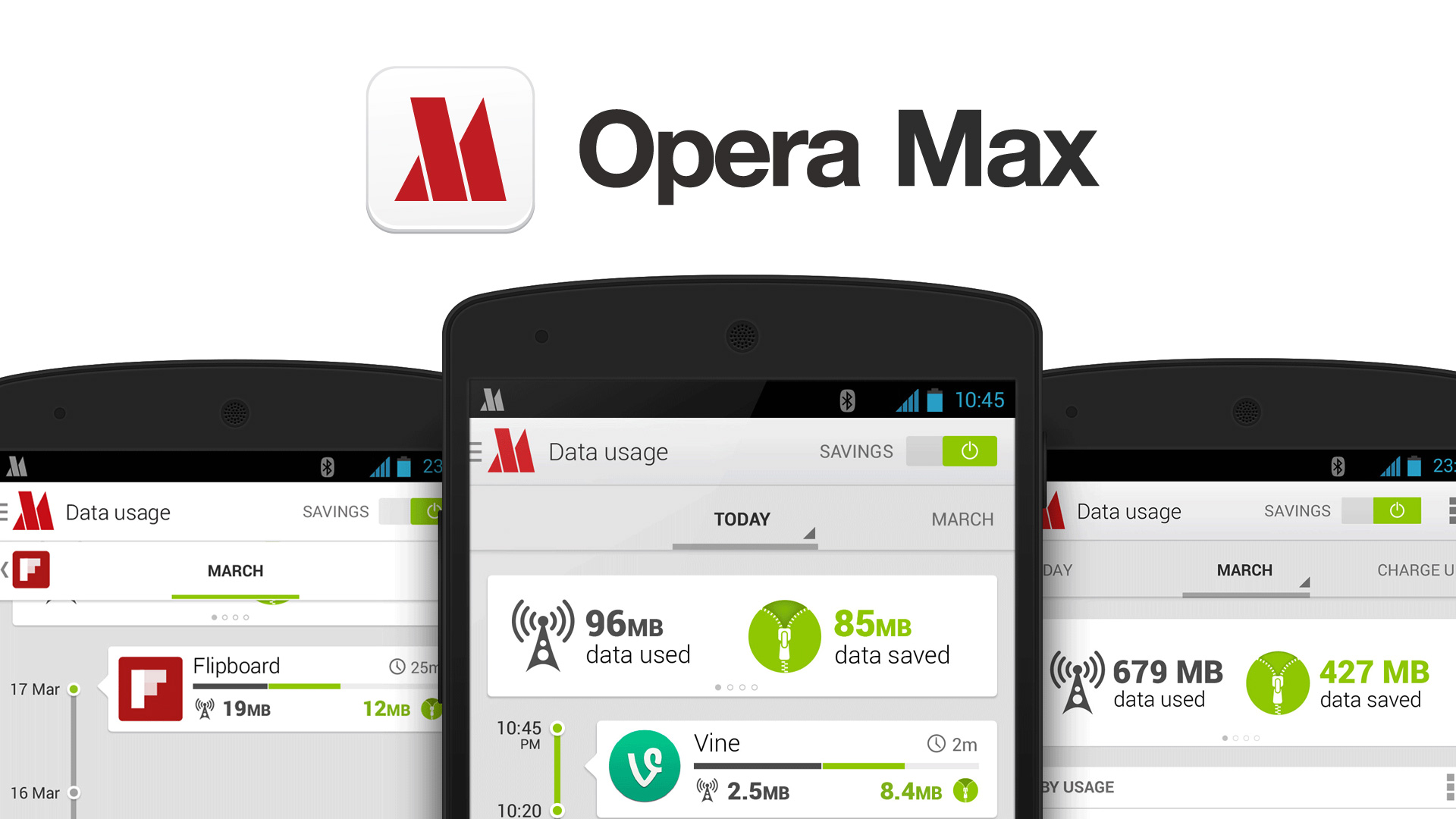 Opera, why you do this?
You can no more download the popular data saving app, Opera Max, from Play Store. Opera has just announced that it has discontinued the support for the application and taken it off the store. Although the exact reason behind the move is unknown, the company says that by doing so they could direct the complete focus of the developers on to their reputable browser products.
"Opera has now decided to discontinue Opera Max. The product had a substantially different value proposition than our browser products, and represented a different focus for Opera. We, therefore, focus on our browsers and other upcoming services."
However, if you still have the app installed on your device, you can use it as long as the browser giant doesn't decide to pull the plug on its services. While that's not likely to happen anytime soon, you need not have to worry about losing your favorite app. While for the rest, you can download it via any of the thousand third party websites online.
In case you didn't know, Opera Max is a very useful utility app – more like a personal assistant – that can help you manage and reduce your data charges. Furthermore, it offers data counters, app management, and smart alerts to notify users if any background app devours your data.
Initially launched back in 2014, the app has had enjoyed over a million downloads from the store. But unfortunately, now that the app is discontinued, existing users will receive no more updates for the said app. Opera has further added that it will remain to function for the existing users for "a period of time".
So, have you been an active user of Opera Max? If yes, what do you think of this unexpected move from Opera? Let us know your thoughts in the commenting section below.
Source: Opera Blog