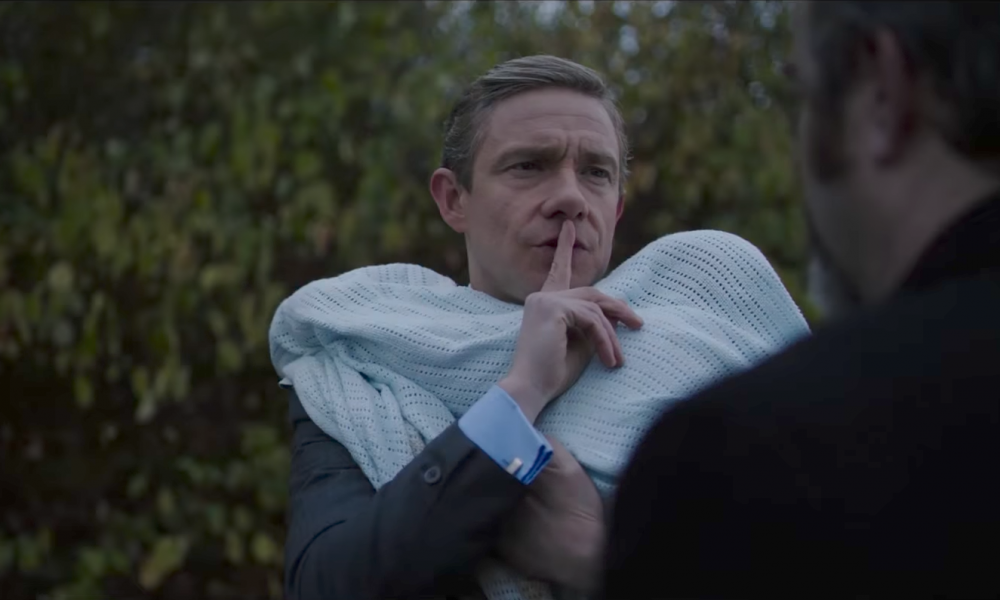 The past few weeks haven't exactly been pleasant at Hollywood, what with all the skeletons of sexual harassment and abuse tumbling out of the closet. This dark side of showbiz can dampen the spirits of any cine fan. If you too have been feeling blue on that account, here are some kickass recent movie trailers to lift your spirits:
Ghost Stories
Ghost Stories traces the story of psychology professor, Philip Goodman, who prides himself on being a 'belief buster' and arch-skeptic. His nerves are put to test when he receives a letter from beyond. Goodman's mentor Charles Cameron, who went missing nearly 15 years ago and is presumed to be dead, reaches out to him, asking for a meeting. It turns out the letter isn't from beyond after all and Cameron is very much alive and looking for some answers. He seeks Goodman's help to understand the rationale behind three puzzling stories that have shaken him to the core. In his search for answers, Goodman meets three people, each one of whom is haunted. The film was well received at the London Film Festival where it was screened recently. The movie is slated for April 13, 2018-release but you can catch this new movie trailer (teaser, actually) now.
24 Hours to Live
It won't be exactly a wonder if, one day, technology is able to bring people back from the dead. For now, such possibilities are limited to the realm of sci-fi films, and that's exactly what 24 Hours of Live brings to you. 24 Hours of Live looks like an action-packed, fast-paced film, where a career assassin is brought back from the dead after getting killed in a firefight during an assignment. As the title suggests, he has only 24 hours to live. While his employer who has brought him back to life wants him to finish one more job, he uses his second chance at life to seek redemption for his past deeds. The movie is slated for an initial release on December 1. Directed by Brian Smrz, the film has Ethan Hawke playing the lead role, with Liam Cunningham, Rutger Hauer, Xu Qing, and Paul Anderson in supporting roles.
The Doll
The Doll sees Valeria Lukyanova aka Human Barbie – a 30-year-old model from Ukraine popular for remodeling her physical appearance to mimic the iconic toy – make her debut on the big screen with this shriek-inducing film. The Doll played by Valeria is possessed and on a mission to ruin the lives of two unsuspecting young men. The suspense thriller sees two friends order a model from an escort service after on them gets dumped by his girlfriend. Even though Natasha the model sent by the escort service is breathtakingly beautiful, they slowly begin to realize that there is something uncannily wrong with her. Turns out, Natasha is a possessed doll brought to life by a crazy doctor in a secret laboratory. She has been designed to kill and control others' mind to kill for her. The trailer of this upcoming thriller that first premiered at this year's Cannes Film Festival looks dark and demented. This seemingly brutal film promises a good slashing time when it hits the theatres on December 8. For now, this horrifying new movie trailer will have to do.
Slice
Exactly a year after production house A24 announced that it was collaborating with Chance the Rapper for a secret movie, we get a sneak peek into what that movie may look like. Titled Slice, this is yet another horror film focused on the murder mystery of a humble pizza delivery driver. As the plot begins to unravel, we get a sense there isn't anything simple or humble about the deceased driver. Murder suspects range from dangerous drug dealers to a deadly werewolf! The movie is being directed by Austin Vesely, who has worked with Chance the Rapper on several of his music videos. Slice also has Joe Keery, Zazie Beetz, and Paul Scheer in supporting roles. The movie hits theatres in 2018, but a brief teaser trailer is out. Even though it doesn't reveal much, it does give a sense that Slice is going to be creepy as hell.
Bright
There are two good reasons to be excited about Bright – Will Smith and Christmas. The film, which is set for a streaming release right before Christmas, presents a world set in an alternate reality where mythical creatures such as orcs, humans, fairies, and elves have co-existed with humans since the beginning of time. Now, policing such a complex world can never be easy. As the plot unravels, two cops – one human and the other an orc – embark on what's seemingly just another night patrol, but the events that unfold on that fateful night will change the future of their world order. The two are forced into an inhospitable situation where they must face the onslaught of a hostile enemy while battling their own personal difference. They must work as a team in order to save a relic, which if stolen by the enemy could annihilate their world.
Den of Thieves
Being a bank robber in no mean feat in today's technologically advanced world, and your troubles definitely get compounded manifold if you are a facing the most menacing gang in the world – the police force. That's basically Den of Thieves in a nutshell. The movie hits theatres on January 19 but a trailer is out already. Oh and, it stars the gorgeous Gerard Butler. There is a twist in the tale though. He plays a cop and so is a good guy, well mostly.
6 Recent Movie Trailers to Lift Your Spirits: Ghost Stories, Slice, and more
was last modified:
November 2nd, 2017
by