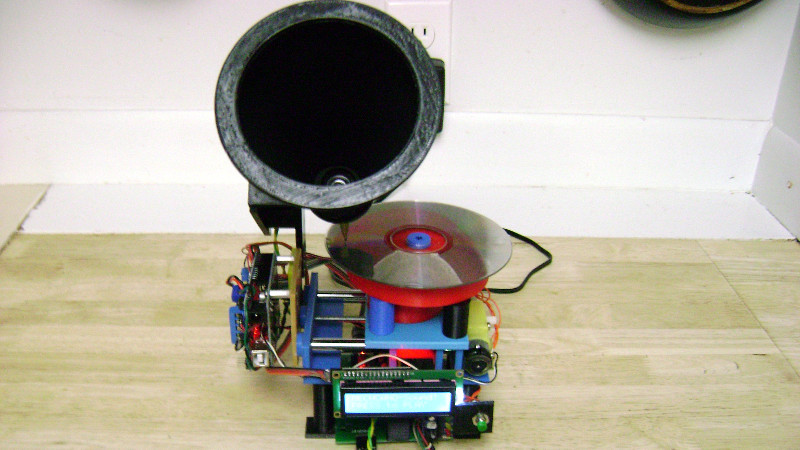 Some guy created a 21-st century version of the good ol' record player.
Chances are likely that kids these days don't know what a phonograph is. Or what a phonograph record is, for that matter! One wouldn't know the beauty of the music flowing out of this device without experiencing it first-hand at least for once. So, if you're an Arduino enthusiast looking to take up some DIYs for this weekend or if you wanna show off a "gadget" from a bygone era to your kids, you should definitely check out this 21-st century version of a gramophone, that is complete with turntable and horn.
Now, though this replica is a beautiful and (almost) accurate representation of a vintage antique phonograph, the former works nothing like the latter. In fact, it uses a CD instead of a phonograph record and the funny part is, the device doesn't actually play music from the CD. In short, as HackADay notes, "The effect is purely aesthetic but should make for an unusual talking point if nothing else".
The components of the project include Arduino-controlled MP3 player, an LCD, and 3D printed turntable and horn. There's a lead screw in the middle of the turntable to rotate the CD placed on it for replicating the working of an actual turntable. The rotation of the turntable and screw is taken care of by an Arduino motor shield. And to make the whole thing seem more realistic, the stylus of the horn returns automatically to the beginning of the CD at the end of each song.
This project was created by Castvee8. Keep going for the video:
DIY This Week: Bring Back The Good Ol' Phonograph Memories With Arduino
was last modified:
July 14th, 2018
by