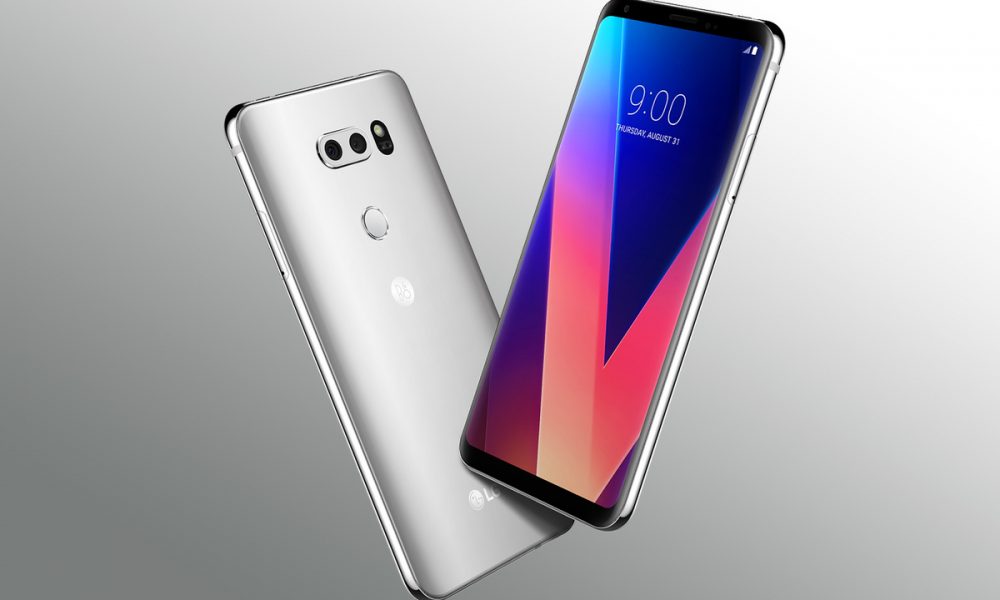 If you're looking for the best LG V30 fast chargers, then you've come to the right place.
Fast charging technology in smartphones is definitely helping us a lot in our daily lives. A few years ago, if you had to fully charge your device, it would take at least 3-5 hours. But, thanks to the introduction of fast charging technology and supported chipsets, charging your phone has never been this easier! If you happen to own an LG V30 or V30 Plus handset, you might already know that the device supports Quick Charge 3.0 that lets you charge the device 50% in just 36 minutes. But to do so, you'll, of course, need a charger that supports this technology. So in this article, we'll be covering some of the best LG V30 fast chargers that you can get in the market today.
LG V30 is one of the best premium smartphones released so far this year. It has a beautiful metal and glass design, and all the high-end specifications that you'd expect from any flagship phone of 2017. LG's got everything right this time with the V30, thus giving the products from their rivals including the Samsung Galaxy S8 and Apple iPhone X a good run for their money.
Sure, LG packs a fast charger inside the LG V30 box, but it's always good to have a backup charger in case anything goes wrong with the original one. However, you should be very careful while purchasing a fast charger for your device as a faulty or inferior charger could even damage your phone completely. So, you should always go for the best LG V30 fast charger and never settle for anything less.
Related: Difference between LG V30 and V30 Plus
QuickCharge 3.0: LG V30's fast charging technology
Fast charging feature has become so common among new smartphones that we've come to a point at which we can't even imagine a high-end smartphone without the feature. Chipset maker Qualcomm's latest and most powerful flagship chipset – Snapdragon 835 – supports up to Quick Charge 4.0 technology. Despite having Snapdragon 835 chip, LG V30 supports only QC 3.0 technology, a feature that originally debuted with Snapdragon 820 chipset.
Mind you, the absence of QC 4.0 charging on the V30 is not a bummer, at all! In fact, the recently launched Galaxy Note 8 supports only Quick Charge 2.0 which gives the LG V30 an edge over the Note 8. In addition to that, Quick Charge 3.0 is indeed pretty fast, too. It can juice up your phone up to 50% in just 36 minutes, which is highly impressive!
If you wanna learn more about the Quick Charge 3.0 technology, make sure to check out this video by AndroidAuthority:
Regardless, if you want to make use of this ultra fast charging technology, you are going to need the best LG V30 fast charger in the market. So, make sure to read till the end of this article to know which charger is the best suited for your smartphone.
Best LG V30 fast chargers
How to pick up the best LG V30 fast chargers?
There are certain configurations you should look for before buying a new charger. Firstly, you should make sure that the manufacturer is reputable. This is very important because they are a plethora of fake products online, and you're likely to be a victim of cheating if you're a tad careless.
But, more importantly, you need to see whether the USB Type C charger you're about to buy supports the QuickCharge 3.0 technology. If it doesn't support, then there is no point in having the fast charging feature as it will charge the device just like every other devices void of this feature.
We've managed to list some of the best LG V30 fast chargers available in the market today so that you don't have to go through the time-consuming task of having to go through of thousands of products online.
Alimu LG V30 USB-C fast charger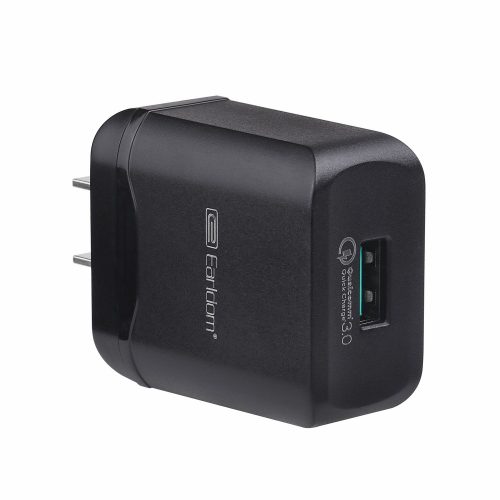 If you have a USB-C device that supports QuickCharge 3.0 feature, we highly recommend buying the Alimu USB-C fast charger. It bears the Amazon's Choice tag and has relatively higher user ratings than any USB-C charger on Amazon. Also, the charger makes sure that the battery inside your device doesn't overheat thanks to the INNOV technology that ensures adaptive power output and optimized charging cycles.
The Alimu USB Type C charger can support up to 3Amps of power output for charging USB-C supported devices. It's worth noting that this charger can also be used to charge your older devices with no support for Quick Charge technology. It comes with a USB-A to USB-C cable that lets you transfer data from your phone to a laptop at a lightning speed of 480Mbps. The best part about the Alimu fast charger is that it is priced only at $12.99.
Earldom Quick Charge 3.0 30W 2-port fast wall charger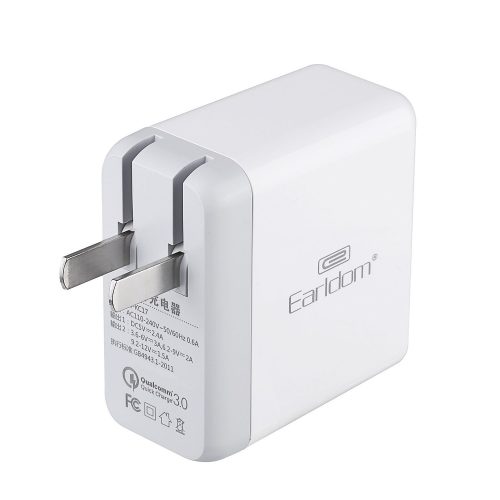 Unlike the Alimu charger we've talked above, the Earldom Quick Charge 3.0 fast charger has got 2 ports so that you can charge two devices at the same time. It has a small LED light to indicate whether your phone is charging or not. It can pump out a maximum of 2.4Amp and has the ability to detect the connected devices and adjust the charging output accordingly.
Apart from that, the Earldom quick charger has a portable design with foldable plugs, so carrying the charger on the go should be hassle-free. Buying one of these chargers from Amazon will set you back $12.99, which is quite a reasonable price for the features it offers.
Anker Quick Charge 3.0 39W dual port 24W fast charger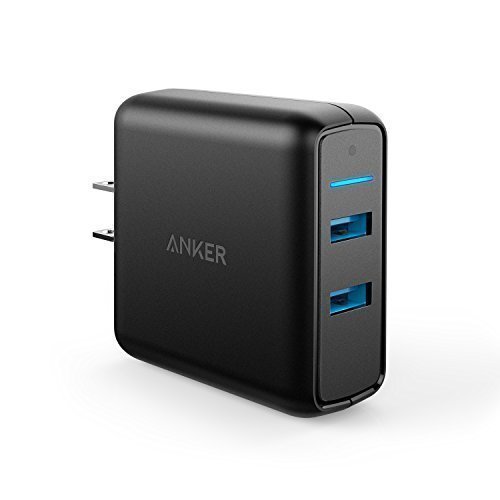 The next on the list of the best LG V30 fast chargers is Anker Elite dual port charger. Anker needs no introduction when it comes to mobile accessories as it is one of the renowned consumer electronics companies in the world. Speaking of, they make high-quality accessories while still maintaining the affordable price tags.
Similar to Earldom charger, this one also has dual ports for charging two devices simultaneously. Besides, it has a light sensor which automatically detects the surrounding lighting conditions and brightens/dims the LED indicator accordingly. It's priced at $23.99 on Amazon.
Aukey Quick Charge 3.0 USB wall charger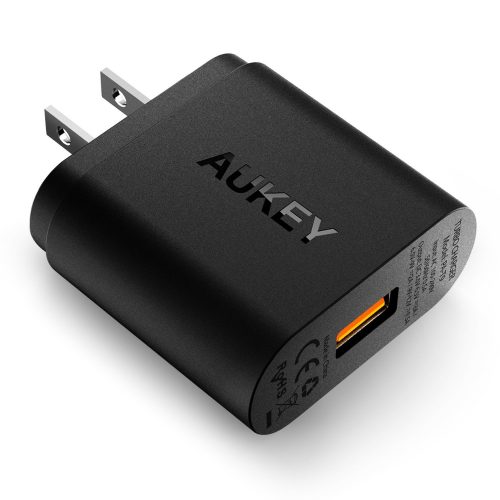 Buyers so far have nothing but only nice things to say about the Aukey Quick Charge 3.0 charger. In fact, it has managed to earn Amazon's Choice tag thanks to widely positive reviews from the users. It can charge all standard USB-powered devices at up to 2.4Amps and has the ability to protect batteries from being overcharged.
The Aukey QC 3.0-supported charger is priced at $12.99 on Amazon. It's worth noting that the product comes with 45-day money back guarantee and 24-month product replacement warranty card.
iClever BoostCube 60W charger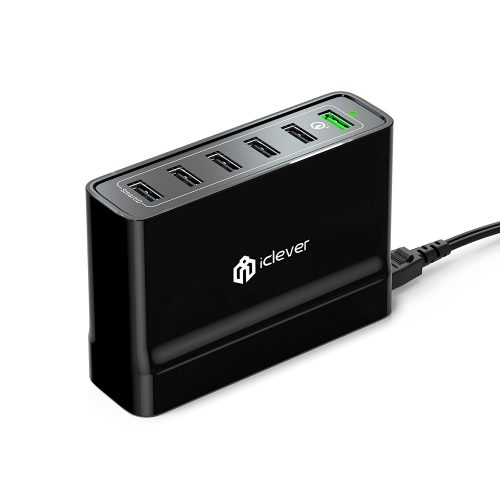 The iClever BoostCube fast charger comes with not one, not two, but five ports so that you can charge up to five different devices at the same tool. How cool is that?
Each port can pump up to 2.4Amps and the charger ensures optimal charging speeds on all the five ports thanks to iClever SmartID technology. It's easier to carry around in pockets, although it offers plenty of ports than its alternatives. On Amazon, you can get one of these for just $25.99.
So, which one among these best LG V30 fast chargers are you going to buy for your LG V30 smartphone? Let us know about it in the comments below.
Best LG V30 fast chargers that you can buy in 2018
was last modified:
July 15th, 2018
by