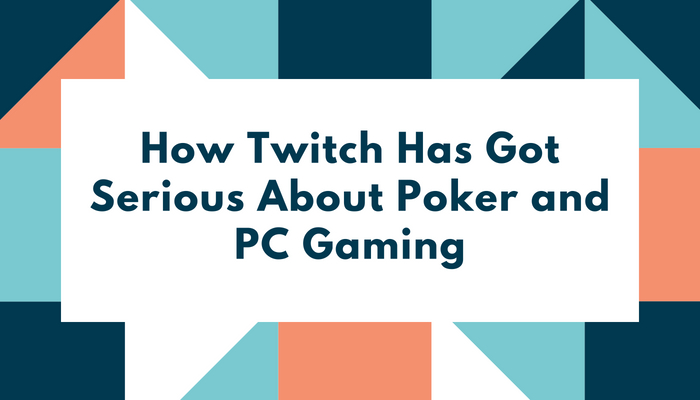 If you trudge back a few years through the annals of internet history, Twitch wasn't the streaming giant that we see before us today. In fact, the platform is quite young in relative terms – it was launched back in 2011 as a spin-off from the now-defunct justin.tv site which was among the first to allow users to directly broadcast their videos online. Fast forward 3 years to 2014 and Amazon saw the potential in the site, purchasing Twitch for around one billion dollars and, although this seemed a hefty price tag at the time, it's fair to say it's turned out to be somewhat of a bargain.
Twitch is now arguably the premier internet streaming platform, managing to pull in a bigger audience than both HBO and Netflix, as well as being responsible for around 52% of the $3.2 billion the gaming industry generated back in 2017 according to research done by marketing firm Superdata. In recent years, the platform's main focus has centered around the streaming of live gaming, as well as helping to form a path to professionalism in games such as poker. But just how has Twitch managed to do this?

TwitchPoker
Twitch now has a dedicated area which hosts a number of poker streams from top professionals. In years gone by, the best-kept secrets of poker were just that, secrets – giving away any knowledge you had was tantamount to surrendering your edge within the game. What's more, the only way to glean any sort of information with regards to the game came in the form of reading books and posting questions on some of the earliest versions of internet forums.
Nowadays, there are online courses, training sites and even live one-to-one coaches ready and waiting to turn you into a more competent poker player. With this in mind, some of the top poker professionals have realized that offering their services via live streaming platforms such as Twitch is a potentially lucrative endeavor and have consequently started streaming their online games, offering tips and tricks along the way while also running giveaways and other contests in order to pique the interest of the watching public.
With top Texas hold'em poker professionals such as Jason Somerville, Daniel Negreanu, and streaming kingpin Lex Veldhuis among some of the names streaming on Twitch, a powerful enough device, and a decent internet connection is all you need in order to start your poker education. In addition to this, a number of online sites are already teaming up with live streaming platforms in a bid to enhance and grow the reputation of games such as seven-card stud and Omaha hold'em – a number of high profile poker sites, including 888poker, already have their own official pages set up over at TwitchPoker and, with most also offering the chance to play from your iOS or Android device, players can enjoy an entire poker education from the palm of their hands.
Parker Talbot
Putting aside his slightly over the top moniker for a second (TonkaaaP), Parker Talbot is one of the most skilled and likable professionals currently operating on the professional poker circuit. Talbot's Twitch videos have amassed more than 3 million viewers and his affable personality has also earned him a huge stack of subscribers on the streaming platform.
As well as amassing a big online following, Parker Talbot is also a well-respected poker professional. His best tournament finish arguably came in a high roller event in Barcelona back in the summer of 2016 where he placed a respectable 7th. With career earnings estimated at around $250,000, Talbot is one of many high profile names to be signed up by online poker site 888poker thanks to his streaming exploits, which once again reinforces the significance of the impact that Twitch is currently having on the poker community.
Just like many others sports and games, you could argue that poker has endured a period of what you could dub as "IRL" snobbery, where those who exclusively player poker online or have even entertained the idea as anything more than a mere hobby have been looked down upon as not being "real" poker players. However, attitudes towards this have undoubtedly shifted due to the technological advancement of the internet and as a result, internet poker personalities such as Parker Talbot are applauded for using streaming services as another to further their brand and earn a little bit of money on the side – the fact that some of the biggest online poker sites are continuing to endorse Twitch streamers solidifies the theory that poker is moving nicely into the 21st century and beyond.
Part of Talbot's allure lies in the respect and kindness he shows to his viewers during his streams.
Live Event Streaming
As well as providing a platform for individuals to stream their gaming exploits, Twitch has also expanded its services to provide live coverage of significant gaming related events. After partnering up with gaming expos such as E3, Twitch offered users the chance to watch the premier gaming event of the year in full, while also providing enhanced versions of conferences from gaming juggernauts Bethesda and Ubisoft.
In terms of actual gaming content, the world of eSports was one of the first industries to get in on the action with regards to live event streaming. Titles such as Fortnite, CS: GO and League of Legends continue to prove popular among audiences of all ages and after partnering up with gaming developers Blizzard and BANDAI NAMCO for Overwatch and Tekken 7 respectively, Twitch have once again proved that they expect to stay in the eSports game for the long haul.
For poker enthusiasts, there's no reason to ever miss the streaming of live poker event ever again. The World Series of Poker high roller events are continuing to be streamed in their entirety throughout 2018, which means that you can watch some of your favorite Twitch streamers compete against the best players in the world and put their own tips and tricks into practice.
Twitch Is Showing No Signs of Slowing Down
Twitch have been quick to recognize the amount of potential within the gaming arena when it comes to live streaming. In addition to this, the platform has also picked up on the popularity of games such as Fornite and has acted swiftly to retain the services of popular streamers such as Ninja by offering lucrative partnerships and other incentives to ward off interest from competitors such as YouTube Live.
When it comes to poker, you could argue that Twitch has done more to advance the game than any other platform. While the game has always been enjoyed by a loyal yet niche fanbase, the popularity of the game was undoubtedly on the decline despite the emergence of high-quality online poker experiences. Thanks to Twitch, poker is now attracting interest from a much younger demographic as opposed to the older end of the more traditional casino game players and this will stand the game in good stead moving forward.
With top poker professionals now able to earn a good living by streaming their games and providing tips and tricks to viewers looking to improve their games, expect to see more and more pros turn to platforms such as Twitch in the future as another means of improving their revenue streams. However you look at it, the future of online gaming and poker looks to be in good hands and one can only see the two going from strength to strength in the not so distant future.
How Twitch Has Got Serious About Poker and PC Gaming
was last modified:
August 10th, 2018
by