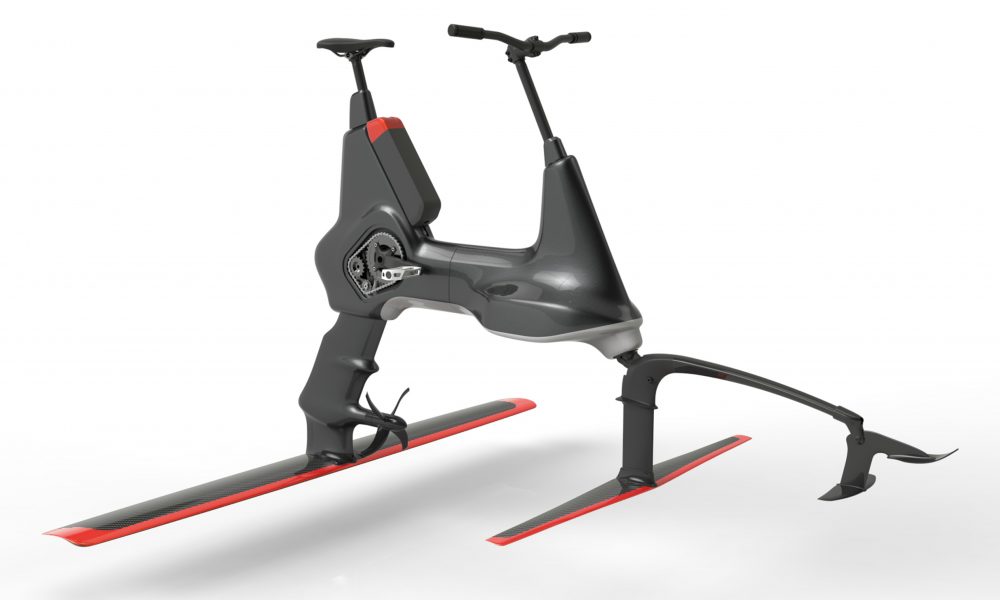 With this Manta5 Hydrofoiler XE-1, you'll float on the waters too, Georgie! It's a hydrofoil bike powered by a 400-watt motor that uses a rider's pedaling power for turning the propeller to provide an added boost.
Think of paddling your way through water and the only image that comes to mind is a paddle boat floating atop calm waters of a lake. The Manta5 Hydrofoiler XE-1, a pedal-electric hydrofoil bike, is slated to change that forever. The winner in the 'concept' category at the 2017 New Zealand Best Design Awards, the Hydrofoiler XE-1 is designed to allow users to ride over water surfaces on lakes, rivers, and even oceans.
This unique bike is the brainchild of New Zealand-based outdoors entrepreneur Guy Howard-Willis, who has worked alongside bicycle designer Roland Alonzo, to bring this concept to life. The Hydrofoiler XE-1 by Manta5 is a lightweight electric-assist pedal-powered hydrofoil bike made from an aluminum frame and weighs mere 44 pounds. It has been fitted with two carbon fiber hydrofoils to provide lift as well as a 400-watt motor that uses a rider's pedaling power for turning the propeller to provide an added boost. The bike has no hull but does come with buoyancy modules which kick in to keep it afloat on the water surface even when not in motion. It is also possible to get off and hop back on the bike and get it going again out on the waters. The Hydrofoiler XE-1 runs for about an hour on a single full charge and can hit a top speed of 12 mph. However, the first limited-edition model currently in production is expected to be a lot faster.
This Manto5 bike can be disassembled for easy transportation and can easily fit in the boot of any car. It has been designed for riders in the weight range of 70-100kg, anything drastically above or below that range can cause the hydrofoil bike to lose equilibrium and balance. Borrowing the concept of e-bikes designed for land, a rider can tweak the amount of electrical assistance as per their own preference and based on the amount of hard work they want to put in keeping the bike going.
Learning to maintain balance on this bike can take some serious practice. But fret not, the makers have prepared for such an eventuality. Realizing that beginners may grapple with a lot of tripping and falling along the way, the Hydrofoiler XE-1 has been fitted with something called the 'submerged launch' mode that allows a rider to remount on the bike and get it going again even if it has sunken below the water surface.
The Hydrofoiler XE-1 is expected to its market debut by mid-November and will be available only on pre-orders within New Zealand for the first few months. These pre-ordered units are likely to start shipping sometime in 2018. The bike will be made available to international buyers eventually. There is no word on the pricing of the Hydrofoiler yet, except that it will be priced on par with "other quality water sports products".
Creator Howard-Willis has a very dynamic vision for his offering. He wants these bikes to be accepted as more than just a leisure product. In his opinion, the Hydrofoiler has been designed for competitive sports. He hopes that the bike earns itself an exclusive sporting category in the Olympics someday.
Though the pricing of the bike has not been announced by the company yet, you can register on their website and be one of the firsts to know about official announcements. Head over to the source link down below in case you would like to know more about this water bike. 
Keep going for the Manta5 hydrofoil bike teaser.
Source: Manta5
Manta5 Hydrofoiler XE-1: Now, Cycle On Water With This Hydrofoil Bike
was last modified:
June 26th, 2018
by