We put OnePlus 5 and Razer phone head-to-head to find out which one of them is the best when it comes to gaming.
Popular PC gaming accessory maker Razer is debuting into the smartphone market with the launch of Razer Phone. The Razer Phone, as expected, comes with high-end specs and a very ergonomic design to fit the gaming needs. While gaming on a PC is light years ahead of handsets, we can't but hope that Razer will bring a breakthrough in the mobile gaming market.
Speaking of which, Razer has teamed up with popular game developers such as Square Enix and Tencent to up the ante in smartphone gaming by bringing major game titles including Tekken, Final Fantasy, Titanfall and more. Well… you know, gaming on today's $1000 mobile phones doesn't have to suck always!
Sure, Razer's new phone is cool and all, but is it the only handset on the market for the mobile gamers? Well, of course NOT! There are numerous phones on the market that matches with the Razer Phone's hardware and it's also worth noting that some of these alternatives are at least $200 cheaper. Out of these, we believe the OnePlus 5 is one of the best gaming handsets you can get today without blowing your budget.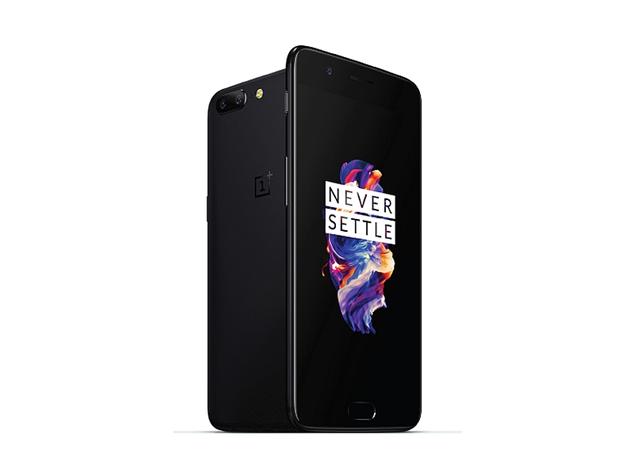 So, how do these two phones compare? Let's find out!
OnePlus 5 vs Razer Phone: Specs
Before we get into the more complex part, let's get this out of the way:
| | | |
| --- | --- | --- |
| Phone name | Razer Phone | OnePlus 5 |
| Display | 5.7-inch 1440×2560 IGZO IPS LCD, 16:9 ratio | 5.5-inch 1080×1920 AMOLED, 16:9 ratio |
| Processor | Octa-core Snapdragon 835 CPU, Adreno 540 GPU | Octa-core Snapdragon 835, Adreno 540 GPU |
| Storage | 8GB RAM, 64GB (expandable) internal storage | 6/8GB RAM, 64/128GB internal storage |
| Primary Camera | Dual 12MP, f/1.8 + 13MP, f/2.6 | Dual 16MP, f/1.7 + 20MP, f/2.6 |
| Selfie Camera | 8MP, f/2.0 | 16MP, f/2.0 |
| Android Version | Android 7.1.1 (Nougat) | Android 7.1.1 (Nougat) |
| Battery | Non-removable Li-Ion 4000mAh | Non-removable Li-Po 3300mAh |
| Connectivity | WiFi 802.11 a/b/g/n/ac, Bluetooth 4.2, NFC, GPS | WiFi 802.11 a/b/g/n/ac, Bluetooth 4.2, NFC, GPS |
| Ports | 3.5mm headphone jack, USB-C | 3.5mm headphone jack, USB-C |
OnePlus 5 vs Razer Phone: Gaming Performance
As you can see in the specs chart above, both the OnePlus 5 and Razer Phone packs similar hardware specs and so the gaming performance on the two handsets shouldn't be much different. In fact, both the flagship handsets feature the same processor – Snapdragon 835 – as well as the same size of RAM – 8GB (Note: OP5 is also available in 6GB RAM, but we're taking only the 8GB RAM variant into consideration in this article).
OnePlus 5 vs Razer phone: Understanding the specs
As far as gaming is concerned, there are other factors to be taken into consideration apart from the processor and RAM size. For instance, the main highlight of Razer Phone is the 5.7-inch QuadHD LCD display that offers the fastest refresh rates (120Hz) of any handsets in the market. On the other hand, the OnePlus 5 has a 5.5-inch FullHD display which provides a refresh rate of only 60Hz.
Now, don't confuse the refresh rate with frame rate. They are both different! The frame rate is the number of frames rendered by the graphical processing unit in a second. It is obviously not consistent and may drop while playing graphic-intensive games.
Meanwhile, the refresh rate refers to the number of frames a display can show in a second. Unlike the frame rate, the refresh rate is a constant value for a particular display unit.
Both the screen and GPU of the Razer phone is tweaked in such a way that the refresh rate of the former echoes with the frame rate provided by the latter. In other words, the refresh rate of the display is not always 120Hz. Instead, it changes accordingly based on GPU's frame rate to avoid potential lags.
And no, the 120Hz display is not an overkill. Razer has added the feature to future-proof the device so that it won't turn obsolete in a future dominated by AR and VR applications.
For those who don't want to break their banks and still want a high-end phone to play the existing graphic-intensive games on the Play Store, then the OnePlus 5 is more than enough. On the other hand, if you are concerned about the future and don't usually change your primary phone every year, then the Razer Phone is a reasonable investment.
OnePlus 5 vs Razer Phone: Which Phone is the BEST for Gaming?
was last modified:
June 26th, 2018
by